Long & Foster teams up with Google for an easy 'Real Estate Quick Search Widget"
About The Real Estate Quick Search Widget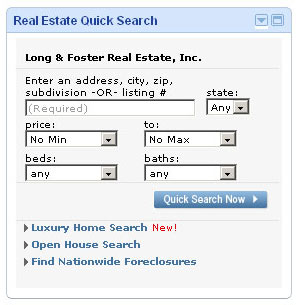 Staying on the cutting-edge of technological innovation has been a driving goal since the creation of Long & Foster Real Estate, Inc. Time and again, it has achieved this goal, whether by offering technology certification courses and web-based training to its agents or by creating dynamic agent websites and regularly updating its comprehensive public website.
The Real Estate Quick Search widget
for the Google application iGoogle is just one more way Long & Foster is staying abreast of the latest technological trends. "Buyers, sellers, enthusiasts and real estate agents will find this tool simple to use and completely versatile," said Michael Koval, Senior Vice President and Chief Information Officer for Long & Foster Real Estate, Inc. "You can search based on location, price range, number of bedrooms, number of baths, or any combination of those criteria."
How does it all work? It starts with
iGoogle
. iGoogle is a personalized homepage available to Google users. It is completely customizable, so that when you log on to the Internet, everything you want to know – from the weather and news to t.v. listing and movie showtimes – is right at your fingertips.
Each little unit of information, called an interactive information module or widget, can be added or deleted from the list provided by Google, downloaded from a widget provider like Widgetbox, or even created using Google's online wizard. And because most widgets are made with Flash or JavaScript, they can run on almost any browser. Clocks, games, counters, videos, weather and stock updates are all examples of widgets – just another way of bringing information to you, instead of requiring you to go out and get it.
Like these widgets, Long & Foster's new Real Estate Quick Search widget can be downloaded to your iGoogle homepage, allowing you to conduct a simple search for homes for sale or comparable properties in your neighborhood. Once your search is complete, you can click on the desired property to be taken to
www.longandfoster.com
for full listing details. Explains Koval, "The best part is you can see the listing information without leaving your iGoogle page, but if you do want to see more details on the property then you can go directly to the full listing on our full www.longandfoster.com website."
In short, the Real Estate Quick Search widget is designed to save you time while still keeping you informed about up-to-the-minute market developments. With a little help from iGoogle, Long & Foster is doing just that.